Interactive Medical Intuitive Workshop

May 26th, 2018 from 11:00 am – 1:00 pm
Seating is limited!
RSVP: Call (503) 224-4929
This workshop is being held at New Renaissance Book Store
1338 NW 23rd Ave. Portland OR 97210
Diane has assisted thousands of individuals learn how to heal emotional wounds for the purpose of restoring their mind/body/spirit health, which includes the mind/body science connection. Her gift of intuition and medical background offers her clients healing protocols, and offers suggestions for meditation mantra's, emotional support, and refers her clients to health practitioners who can offer additional healing modalities. Diane identifies through archetypal, symbolic, and roles, how to assist her clients in shifting into the Creator role for the purpose of healing and restorative health.
Disclaimer: Diane does not claim to cure illnesses or diseases. Having a coaching session with Diane should not be a replacement for professional medical care. Diane advocates that all people should see their doctor for medical diagnosis and treatment if advised by their medical practitioner.
You will learn:
How to listen to your body, your greatest teacher
How the mind influences the body, scientifically
How to heal stuck and blocked energy we hold in our bodies
Why illness and pain arises without healing
How a few simple habits can change your health
How to reduce inflammation to prevent illness
RSVP Today!  Call 503-678-1356
Sacred Healing Workshop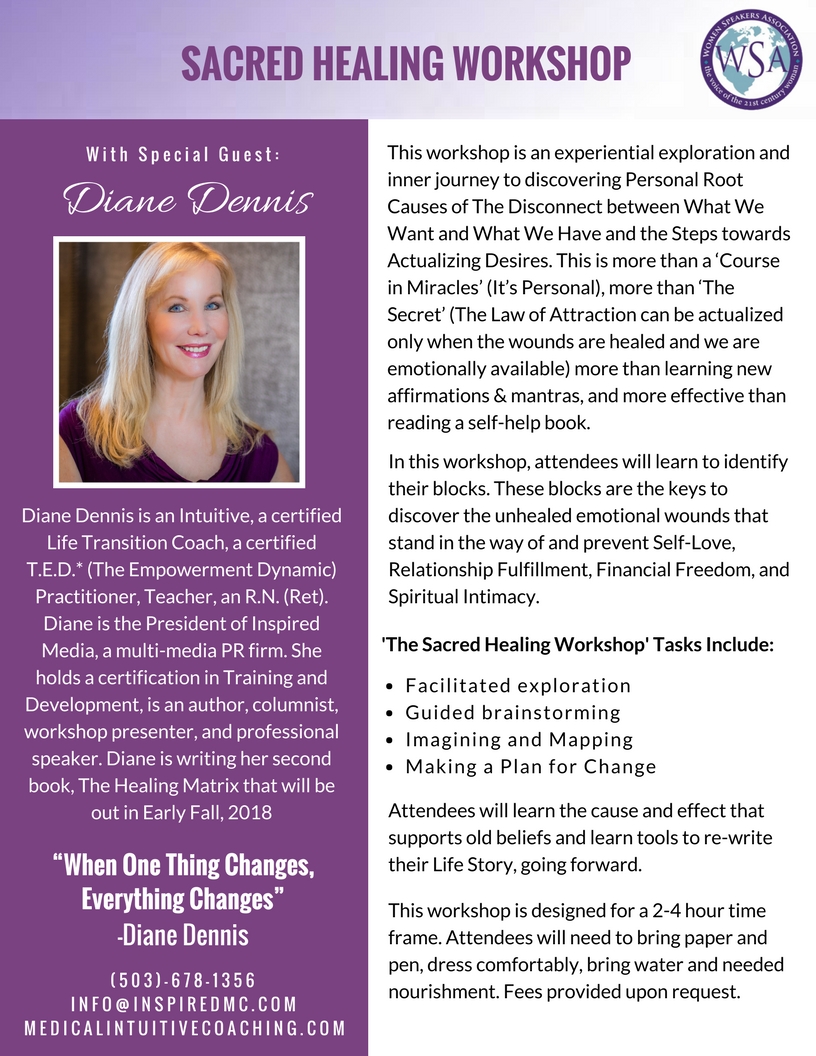 The Sacred Healing Workshop will be held on these dates:
May 26th, 2018
11:00am-1:00pm
New Renaissance Book Store
1338 NW 23rd Ave. Portland, OR 97210
RSVP TO: (503) 224-4929
June 3rd, 2018
10:30am
Ocean Unity
407 SW 9th street, Newport, OR 97365
RSVP TO: (541) 574-6560
Diane Dennis, TED* Certified Practitioner and Workshop Presenter.
Workshop outcomes include Shift in behavior roles for the purpose of sustainable goal achievement. Learning the dynamics and how to shift into Creator, Coach, and Challenger roles for positive outcomes in business and relationships.